I love coffee!! It is one of the many reasons why I like mornings so much. Anytime I take a trip I always want to go to a little coffee shop and hang out there for bit. I would even be very excited if I went on a trip to hit up all the best coffee shops in a state 🙂
When I think about how much I like coffee and how women are often warned of caffeine when trying to conceive a baby or are pregnant, I start to wonder what I might enjoy as much as coffee when I do start to have babies. I would definitely abstain from anything I shouldn't have during pregnancy but it is a thought that crosses my mind.
Sure there are decaffeinated options and luckily for me it's really about the flavor and smell of coffee rather than the caffeine. However, for many people it is the caffeine that turns them towards coffee initially.
I thought I could shed some light for the coffee enthusiasts who are starting a family and those of you who are pregnant. 🙂  Yes, you can actually have coffee!!!!
I have come across some mixed information, but trust me, I dug deep to find the most agreed upon amounts of caffeine for women trying to conceive. Having more than 200mg of caffeine a day can decrease fertility. This is approximately two 8oz servings of coffee. More than 200mg can potentially decrease estrogen production, decrease estrogen metabolism, prevent the egg from maturing and therefore it will not be able to be fertilized.
During pregnancy it is also advised to keep the upper limit of caffeine consumption to 200mg. According to a study performed by the American College of Obstetricians and Gynecologists (link below), there is no significant increase in the risk of having a miscarriage when consuming less than 200mg of caffeine a day. It has also been found that caffeine does pass through the placenta but the baby cannot metabolize it well.
The jury is still out with conflicting studies reporting a link between caffeine and low birth weight babies. My take on this, there is NO logical reason to gamble! I can understand wanting to have a tiny baby especially when thinking about labor. However, there are health risks for babies who have a low birth weight. There are health risks that even take place into adulthood that are associated with low birth weight babies.
For men there are still studies taking place to determine how much caffeine can negatively impact fertility. What it breaks down to is healthy lifestyle. Surprised? If you are having a lot of caffeine during the day for the lack of energy or sleep you must find a balance. This goes for women as well of course.
In the spirit of my absolute favorite season and my favorite morning drink, I made a Pumpkin Spiced Latte this morning! It took about 6 tries the day before to get this right haha. Thank you to my ever so loving husband Ethan for tasting ALL of them too. Here is the one we both liked, I hope you enjoy it too 🙂
I thought it would be so fun if we could all have this together but since we actually can't I thought you should have the recipe.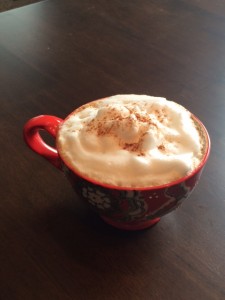 Makes 1 serving
Ingredients
4 oz coffee (other options-espresso or decaffeinated coffee)
6 oz unsweetened vanilla almond milk
3 tbsp pumpkin puree
¼ tsp pumpkin pie spice
½ tsp cinnamon
½ tsp vanilla extract
Directions
Pour 6 oz of unsweetened vanilla almond milk in frother and let do its job
In your favorite morning cup or mug mix pumpkin puree, pumpkin pie spice, cinnamon, and vanilla extract
Pour 4 oz of coffee into the cup and mix until puree is completely dissolved
Pour the unsweetened vanilla almond milk into the cup or mug
Sprinkle the top with cinnamon
Enjoy!!
Oh you can also add sugar or any other sweetener to taste if you want 🙂
Keep in mind coffee is not the only enjoyable item with caffeine. Here is a chart I pulled from the Mayo Clinic (link below) for coffee, teas, and cocoa.
Coffee
| | | |
| --- | --- | --- |
| Type of coffee | Size* | Caffeine✝ |
| Brewed | 8 oz. (237 mL) | 95-200 mg |
| Brewed, decaffeinated | 8 oz. (237 mL) | 2-12 mg |
| Brewed, single-serve varieties | 8 oz. (237 mL) | 75-150 mg |
| Brewed, single-serve varieties, decaffeniated | 8 oz. (237 mL) | 2-4 mg |
| Espresso, restaurant-style | 1 oz. (30 mL) | 47-75 mg |
| Espresso, restaurant-style, decaffeinated | 1 oz. (30 mL) | 0-15 mg |
| Instant | 8 oz. (237 mL) | 27-173 mg |
| Instant, decaffeinated | 8 oz. (237 mL) | 2-12 mg |
| Specialty drink (latte or mocha) | 8 oz. (237 mL) | 63-175 mg |
Tea
Type of tea
Size*
Caffeine✝
Brewed tea
Black tea
8 oz. (237 mL)
14-70 mg
Black tea, decaffeinated
8 oz. (237 mL)
0-12 mg
Green tea
8 oz. (237 mL)
24-45 mg
Iced tea
Instant, prepared with water
8 oz. (237 mL)
11-47 mg
Ready-to-drink, bottled
8 oz. (237 mL)
5-40 mg
Type of product
Size
Caffeine*
| | | |
| --- | --- | --- |
| Sweets |  Size* | Caffeine |
| Chocolate chips, semisweet | 1 cup (168 grams) | 104 mg |
| Dark chocolate-coated coffee beans | 28 pieces | 336 mg |
Resources:
http://www.mayoclinic.org/healthy-living/getting-pregnant/in-depth/female-fertility/art-20045887?pg=2
Book: Fertility, Cycles, & Nutrition by Marilyn M. Shannon
http://www.resolve.org/about-infertility/optimizing-fertility/caffeine-does-it-affect-your-fertility-and-pregnancy.html
http://news.health.com/2013/02/19/too-much-coffee-in-pregnancy-tied-to-smaller-later-newborns-study-says/
http://www.acog.org/Resources-And-Publications/Committee-Opinions/Committee-on-Obstetric-Practice/Moderate-Caffeine-Consumption-During-Pregnancy
Caffeine Chart:
http://www.mayoclinic.org/healthy-living/nutrition-and-healthy-eating/in-depth/caffeine/art-20049372?pg=2