The holidays are definitely upon us! As much as I love this time of year it can also be a real hassle at times. It seems like most people practically skip right through Thanksgiving and jump right into Christmas. I have also found it interesting how the ever so anticipated shopping day of the year (Black Friday) seems to be more of a holiday than Thanksgiving with all the attention it gets. Oh and let's not forget the fun of travel and shopping at the same time of everyone else. This is when I notice emotions of many are not exactly filled with peace and joy.
I get it! Everyone has places to go and people to see, along with places they don't want to go and people they don't really want to see.
Yes, the holidays can be difficult but it can also create the best memories. Some of the funniest ones seem to come from holiday gatherings. To be honest this is my absolute favorite time of year.
I love this time of year for many reasons. I enjoy the fall and winter weather because I get to wear my boots. I love how the cold snowy nights make a fireplace nice and cozy. The warm drinks seem to warm both body and soul and let's not forget all the tasty food at each home you visit. I also have a special day all to myself because my birthday is December 18! I have a blast when I am with my family and have great holiday cheers with friends.
Now I am not saying that it does not get stressful but like anything else it comes down to perspective and how you truly want to experience the holidays. As for me I want to have fun and enjoy my time with family and friends.
To help you join me in having a happy holiday I have included my personal 3 favorite easy strategies to guaranteeing an amazing holiday season. Aaannnnd  BONUS!!! Tips as to how these strategies improve your health.
Give and get as many hugs as possible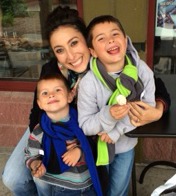 Thanksgiving is a great time to show others how much they mean to you with a big ol' hug! My sister in-law is the pro at hugs, so this year I decided to give her type of hugs a good try. It is a two arm total wrap around and a tight squeeze that lasts more than 5 seconds. The best welcome hug I've ever had and I am a hugger so it says a lot.
Bonus Tip: Not only does physical affection give us an emotional boost but it is great for the body as well. You get an increase in levels of oxytocin and dopamine (hormones in stress reduction) and a decrease in cortisol (a stress response hormone). If you are on my email list you know how this benefits your baby during pregnancy.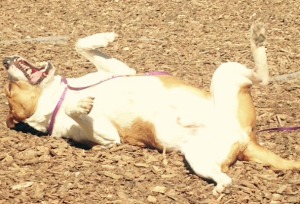 Embrace Humor and laugh with others (One of my favorite pictures of my dog)
When my family gets together all you hear is laughter in every room. We reminisce about childhood, pranks, falls (I've been told I am clumsy), embarrassing moments, food mishaps, and favorite past holiday memories. We all leave with soar cheeks and stronger abs by the end of the holiday.
Bonus Tip: As you know laughter is fantastic for your health. But what you may not know is laughter is great for blood flow because it allows your blood vessels to contract and expand easily. Laughter allows your body to increase antibodies into your system and therefore the amount of immune cells. The most fun way to prevent the seasonal flu if you ask me. Laughter also keeps blood sugar levels lower after eating. After a good day filled with laughter you find that you are able to relax better at the end of the day. Those of you are on my email list know how your baby will be influenced by good blood sugar levels, proper blood vessel function, and your immune health.
People always have more than they realize. It is important for us to be thankful for all that we do have and appreciate it. This year I am thankful for my family, my friends, being able to just focus on Imprinted Legacy, having a new baby nephew to celebrate Thanksgiving with, and forgiveness. This year a very close relative and I rekindled our relationship. It was scary when we reconnected but it was truly one of the best things we ever did. I don't know how I lasted two and a half years without her in my life.
Bonus Tip: Gratitude goes a long way for our health as well. People with gratitude tend to take better care of themselves and make healthier choices. Being thankful also helps gain a positive perspective when faced with daily stressors and therefore you are not as easily stressed. This may come in handy if you are hosting for Thanksgiving. Studies also show that people who have a more positive perspective also have better immune function.
After you try these 3 strategies let me know how it worked out for you!
Cheers to a happy and healthy holiday season!
Are you in my email list? You don't want to miss out on extra health information and much much more.