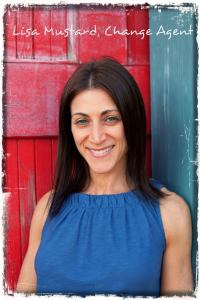 This week's special guest is Lisa Mustard Founder/Creator of Lisa Mustard, Change Agent
I remember the day I found out I was pregnant with my first child. It feels like yesterday but it's been 7 years. I also remember all the books I received on how to have a healthy pregnancy. I read them cover to cover and highlighted chapters for my husband to read. I ate my vegetables, did my exercises and avoided the cat litter box. The pregnancy was pretty text book; the usual aches and pains. The last few weeks were difficult, mainly because I was uncomfortable and my sleep suffered.
Of course, like many first pregnancies, my baby liked it on the inside and it seemed as though she would stay in there until she was 16. However, a little castor oil got things going and after 23 (!!) hours of labor, my baby girl arrived into this world bright eyed and healthy! (Ok, yes I know there are plenty of women out there who may be cringing at the idea of castor oil to bring on labor. I ran this by my doctor ahead of time and she gave me the green light. In fact, when I arrived at the hospital in labor, she told me she was surprised it worked.)
When we came home from the hospital we laid her in her crib and stood there, side-by-side, adoring her. Sounds perfect, right? It went downhill within a couple of days. I was not prepared for how hard it was to shift from a happily married couple to a married couple with newborn. Everything changed. And I had no textbook or guide on what to do once baby made her debut! Sure, I had many books on baby and toddler ailments and development, but NOTHING on marital relationship post-baby's arrival.
Looking back at that time in our marriage, it was a huge transition. In fact, it was really hard. Here's why:
Our focus shifted. And I was not prepared for the shift.
For many years, my husband and I focused our attention on each other and our marriage. We worked hard to get to where we were in terms of understanding each other, our value and belief system, our dreams, goals and aspirations as well as our 'we-ness'. We were rocking the marriage thing! We enjoyed the same things. And when we didn't, we were cool with doing things separately.
And then we had a baby. We were now focusing on her the majority of our time and not so much on our marriage. I was sad, frustrated, and a little resentful (100% transparent here!!) at how much she took away from our couple time. At the same time, I was in love with my baby and didn't want to be away from her. Couple these emotions with a lack of sleep and I felt, at times, crazy. I talked to friends and family. They were very helpful but I didn't feel understood. I shed a lot of tears those first few weeks. Looking back, I was grieving the loss of the 'old us'.
Eventually, she began to sleep through the night and we got a feeding/napping/feeding/pooping, etc schedule down. I found my groove with being a new mama. However, our marriage was different because we were different. We now had new roles, responsibilities, and priorities. We realized that for our marriage (and family) to be healthy, we needed to do a few things.
1. We learned to ask for what we needed and wanted from each other in supporting our new roles of mama and daddy. I am talking about the smallest of things some days. If you've read "The Five Love Languages" by Gary Chapman, I became more of an "Acts of Service" kinda gal.
2. We made time for meaningful conversation. It was easy to sit in silence on the couch and zone out after a long day. Instead, we turned off all electronics and talked. We had a rule that we could only talk about our daughter for the first five minutes, then we had to stop.
3. I started to practice gratitude. I realized I would emotionally over-react when something happened outside of my control. This was causing tension in our marriage. It was not easy at first yet once I got into the swing of it, I noticed I was positive and happy. I could let things go easier and focus on the 'now'.
Was it easy? No. Some days I wanted to run away and join the circus! But, I am extremely grateful for a fabulous husband who loved me through all of these crazy times. He told me, "we will get through this together," more times than I can count. I am appreciative of supportive friends and mentors I have had in the past seven years. I want to encourage YOU to find your support – counselor, friend, spiritual advisor, mentor, coach – someone you trust and feel safe with in sharing your feelings.
Thank you for reading and I hope something in my article resonated with you. I'd love to hear from you! You can find me on Facebook at Lisa Mustard, Change Agent or www.lisamustard.com.
AND!!! I am taking on new coaching clients and if you would like to learn more about how I help women live an abundant and more meaningful life, please send me a message. I would love to connect and see how I can help you reach your dreams.