Like any mom, I want only the best for my daughter.  But I am also not blind sighted by life.  Growing up as a young girl can be scary.  One of my top priorities is to teach her self confidence.  More importantly I want her to know who she is on the inside, to know that a beautiful person starts from within.  Having struggled with my weight, body image, and self esteem for years, I want my daughter to know the "other side."  I want her to know about balance. Moderation.  A healthy lifestyle.
I hope that she enjoys exercise as much as I do.  I hope she finds her niche' and is strong both mentally and physically. I hope she sees exercise as something she needs (for her mind) rather something she "must" do.  I hope she aspires to be fit and not skinny.  I hope she one day looks up to me as a healthy and fit mom.
These are the things I want her to know :
Exercise is a lifestyle, not an event. Working out is a not a one time thing.  It's not something you do to get ready for an event, it's what you do everyday.  You find time to get your workout done no matter how tired or busy you may think you are.  It's all about balance.  Make it a priority in your life but do not revolve your life around it.  Just move everyday and aspire to be a fit woman.
Strength equals self sufficiency. Being a strong woman is empowering.  It will feel good to be able to carry your own because you are strong.  Being strong on the outside will help you feel strong on the inside and become independent.  Being strong has everything to do with being healthy and fit and nothing to do with being skinny.
Endorphins make you happy. It's science based.  Sweating makes you happy.  A good workout will help you cope, end a stressful day, and make you smile.  There is no "rule" as to what you do, just move.  Find something you love and do it.  Don't obsess over the most popular workout or fad.  Stick to what you love and be good at it.
You will find yourself in nature. You will see more.  You will appreciate it.  Run, hike, swim, ski, snowboard, there is always something to do outside.  Just go out and enjoy the peace and beauty of this world.  Being in nature will do wonders for your mind.  Take time to think, unplug, reflect and dream.  Your life is yours to create.
If you feel beautiful, you are beautiful. When you workout you feel better.  You have more self confidence and you feel beautiful because you are fit.   Being fit does not mean having a six pack, being fit means feeling good in your own skin.  There is nothing more beautiful than a self confident woman.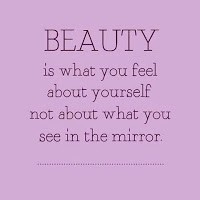 Working out sets you up to be successful. Let's face it.  Working out requires discipline and dedication especially on days when you would rather not.  When you are committed to working out and living a healthy lifestyle, you are likely to be successful in other areas of your life.  Working out goes far beyond the number of miles and the calories burned.
Too much of a good thing can ruin your life. When you pound the pavement for hours or pedal away on the elliptical you are simply missing the point.  There is a better, more efficient way to exercise and still have a life.  To get the most out of exercise while still living, loving and remaining happy.  You do not need hours of exercise, a gym or fancy equipment to be healthy and fit.  You can be fit and healthy in less time.  In fact, you are doing yourself a disservice slaving for hours at the gym.  You are doing yourself a disservice obsessing over the minutes, the miles, and the calorie burn.  You are simply going through the motions wishing, hoping, and waiting for something to change when in essence you have the power to make it the best right now.
Little eyes are watching.  You are always being watched.  There is no greater role model for your kids.  Your kids are watching what you do and will learn what is a priority.
Next time you head out to exercise think about these three things:
Is this the best and most efficient way to achieve my goals?
Is this something I can continue for life?
Do I WANT to continue this for the rest of my life?
Because after all, exercise, fitness, and workouts for the average woman are all a way to be healthy and get the most out of life.  To live longer, have energy, and feel great.  To be a positive role model for your kids and grandchildren…to be *trained* for life.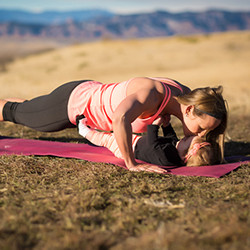 What message do you want to send to your kids?
Shira has been an inspiration to many other moms who are striving to be a healthy role model for their children. Finding your own balance in health is often difficult, especially when you are wanting to show your children how to find a balance for themselves. If you feel like you need a role model of your own who will also give you guidance Shira is the right woman for you! She is someone who shares your aspirations and understands the struggles. She is about being the best and healthiest version of YOU.
To get started I would recommend Shira's Healthy Mom Guidebook! I took a look at the guidebook and I must say she does an amazing job laying out the how-to's. It is easy, stress, free, and you learn along the way what works for YOU! You are guided into understanding what your body will respond to, you get exercises, recipes, and beyond that you will follow a plan that you don't feel chained too. Finally a program designed to be just as flexible and efficient as you are! Shira knows that moms have more important things to think about than how long and what to do for exercise, meal prep, and second guessing your food choices. She takes the mental energy out of it for you and teaches you how to do the same.
If you are ready to clear your schedule and mental energy for more important things, all you have to do is Click Here!