Like many of you, I grew up enjoying the combination of rhymes and imagination in my little Dr. Seuss books. All the stories and characters seemed to stick in my brain even years later because the simple lessons they taught continue to broaden as I get older.
For example, Horton Hears a Who! (watch original cartoon here) has always been one of my favorites. Horton the elephant takes care and guards this teeny tiny little speck that is the home of teeny tiny little Whos. Out of the goodness of his big heart he wants to take care of this little civilization and keep them safe. He carries them with him everywhere he goes on a clover he holds ever so gently and securely with his trunk. He protects them from potentially dangerous elements and creatures that wanted to harm them. Towards the end of the story and what seems to be Whoville's demise, Horton and the Mayor of Whoville work together so the Whos could be heard and therefore "seen" by the other creatures.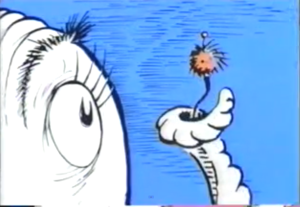 Yet again Dr. Seuss teaches us valuable lessons at any age. I realize now that Horton did even a little more than what meets the eye.
Yes, he was a genuine elephant who wanted to protect the little lives he vowed to protect, but a big reason why he was close to them and knew how they could work together for their survival was because he actually took the time to get to know them and understand life from their perspective.
He knew they loved to have fun, play music, celebrate, and therefore have the ability to work together to be heard. Based on these strengths Horton came up with the brilliant idea that if he could get the world around him to quiet down and have the Whos speak up, they would be heard and therefore saved.
As much as this may come to a surprise to you (insert sarcastically shocked look and playful smile) this made me think of babies in the womb and their relationship with their moms.
Over the years I realize that it's not all that common for people to think about pregnancy from the baby's point of view. Understandably so, I mean it isn't like we can just have a chat through your belly button. Trust me I tried when I was 3 going on 4 when my mom was pregnant with my younger brother. There is no window to see what they are really up to and we can only guess as to what life is like for them as they grow more and more each day into a completely developed tiny human.
Babies in the womb have a lot in common with Horton's friends the Whos. Babies in the womb are quiet and make subtle movements (but sometimes not so much). As they grow and the belly grows their existence becomes…well…louder, more prominent than before. While you are pregnant you are doing all you can for your baby to keep them safe, happy, and healthy. As you spend time with your baby bump you start noticing little things about their personality and discovering who they are.
For example, my younger brother kicked and kicked and to my mom, seemed like he kicked with all his might. Well to this very day he kicks and kicks with all his might as he is waking up. His poor future wife may not have the best awakenings each day if they don't have a very big bed…or likes to cuddle during sleep times. Anyway…my theory, while in the womb he kicked our mom the most and with such force when he was waking up from a nap due to his exhaustion of nonstop development. It takes a lot of work for your baby too you know!
As you are busy helping them grow and protecting them, they are growing and soaking up everything they can to learn about the world they will be born into. They are learning in a much different fashion than what we are accustomed to after birth. They learn from a cellular level. They spend a lot of time listening and also want to be heard from a deeper level.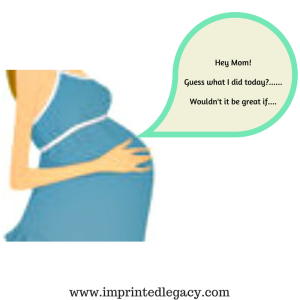 As a society when we think of pregnancy we think mostly about the mother's experience and less thought as to what the baby may be experiencing. Yes, I know this is a bit tricky. How in the world are we supposed to know what the baby is experiencing?
Well, if you take a moment to stop, tune inward, and listen with your body, your little bun in the oven will tell you everything. They are as silent at little Whos so you must listen carefully. This is when more of the magic happens because you work together in a relationship that fosters their ability to survive and thrive, much like Horton and the Whos did.
Take a moment to think about:
If you were to tune in much deeper and really listen to what your little love is saying, what might they be telling you they need?
How would this change your pregnancy experience and theirs?
I know your baby will tell you the answers you're looking for.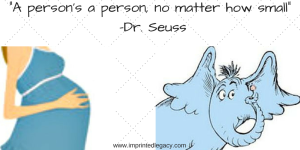 Share your answers with the rest of the Imprinted Legacy family on your favorite social media outlet!
Facebook, Twitter, or Instagram
Are you wondering how you might better understand what your baby's perception of pregnancy is like? Find out by signing up for your own FREE copy of The Beginners Basic "Baking" Techniques eBook.
Until next time my friends!
Your P.I.P. (Partner in Pregnancy),
Erin