Check this out! Dr. Mark Morris, DDS. with Merrimack Smiles shares with us how oral health…
Click To Tweet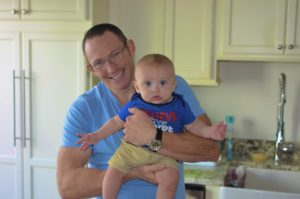 Introducing our Guest Legacy Leader Dr. Mark Morris, DDS.:
Dr. Mark S. Morris grew up in the small town of Rangely Colorado and is the oldest of four children.
He attended Adams State College in Alamosa, Colorado, earning his B.S. in Cellular and Molecular Biology while playing intercollegiate football and club rugby. His interest in the anatomy and physiology of the human body is what initially led him to dentistry.
After graduation from Adams State, Dr. Morris went on to work with children in a pediatric dental practice than later graduated from the University of Colorado Denver School of Dental Medicine. In 2011 Dr. Morris completed a General Practice Residency in Hospital Dentistry at the University of Colorado. The residency provided advanced education and training in comprehensive dentistry including extractions, root canals, pediatrics, prosthodontics, emergencies and implant dentistry.
In March of 2015, Dr. Morris and his wife Maggie welcomed their first child into their lives. Owen is a ball of energy, can make friends anywhere he goes, and he thinks he is hilarious. Spending time together as a family, hiking, going on day trip adventures, or simply playing in the yard are some Dr. Morris' favorite things to do when not in the office.
In this episode:
Our guest Legacy Leader Dr. Mark Morris, DDS. explains the importance of mom's and dad's clean mouth for their baby's future health. He shares with us the underlying cause of bad oral health, how it affects adults, how it affects a developing baby in the womb, how to set the stage of preventive health from the time your baby is born, and best practices your whole family can do for good oral health. He covers information that I have not heard until this interview so I am sure you will too!
Dr. Mark Morris, DDS. answers the following questions plus a few more:
For those tuning in and may not know of you yet, please tell them about your passion and why you chose Dentistry as a way to express this passion?
What is it about your work that pulls at your heart to do the work you do?
Many people don't seem to fully understand how much oral hygiene affects their overall health. May you please explain this connection, so people have a better understanding?
I often find that when couples are planning to start a family and begin making healthier lifestyle choices they often don't think about their oral health.

May you explain why men and women need to see a Dentist and make their oral health a priority as part of their plan to obtain and maintain health before continuing to grow their family?

How does an expecting mom's oral health effect here baby's development in the womb?
What are the positive and negative long-term effects that show up in a developing baby's adulthood as a result of an expecting mom's oral health?
What can expecting moms do to support the development of their baby's teeth and overall oral health?
How can parents further support their baby's oral health after he or she is born?
How soon should parents start taking their children in to see the dentist, so they start getting comfortable at an early age?
Is there anything else you would like to add that we did not cover today?
Do you have any recommended resources outside of your own that you would like to share with those tuning in today?
Where can people find you and gain access to your services?
Resources Mentioned:
I have to tell you a little secret. I was buzzing for days after I realized I was mentioned among this list of reliable and useful resources. Truth be told I have an audacious goal for Imprinted Legacy. I want to grow Imprinted Legacy so that it is part of this list time and time again because of the information, resources, and community created by those who want to make health a family legacy.
Where to find Dr. Mark Morris, DDS.:
You may also like:
Episode 6 Dr. Jillian Sarno-Teta talks about gut health and epigenetics for fetal development
What to do next:
We are all interdependent on the issue of chronic disease and how it has become a social norm for each generation. It is up to all of us to change this. It is possible, and now you too are aware. When it comes to our society's health, we all win, or we all lose together. To contribute to the global effort to pass down health as a family legacy and making this change, please do the following
To contribute to the global effort to pass down health as a family legacy and making this change, please do the following three steps to help get the story of  Developmental Origins of Health and Disease (DOHaD) out there.
Rate and write a review for this episode
Share the podcast with your family and friends (in whatever way is easiest for you)
As always, email me with any questions and input on what you would like to hear more of on the podcast.
Alright, now that everything has been covered head over to iTunes, Stitcher, or listen directly from the website to all seven episodes and tune in again on Monday, October 31 for the newest episode with me 🙂