This week I am very excited to introduce you to my friend Jen McLellan! Jen is the founder of Plus Size Birth, here she helps women feel empowered by their pregnancy and learn to love and appreciate their body at any size. Through her own journey she discovered a need and had the desire to help. She is also a certified childbirth educator and public speaker.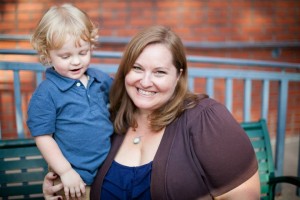 For those who have not yet heard of you please introduce yourself and explain why you started Plus Size Birth?
Hi! I'm Jen McLellan! I have a passion for supporting plus size women during pregnancy, birth and postpartum. I also have a deep desire to help every mother, regardless of size, learn how to love her body.
My journey to body love started when I became pregnant. I've always been a big girl but I never allowed that to hold me back. When I read online that I would incur all kinds of risks because of my size, I worked super hard to eat healthy and remained physically active throughout my pregnancy. Water aerobics isn't just for white haired ladies y'all! I also researched and connected with not only the best care provider but also hospital that matched my wishes for my birth. As my belly grew, so did my love for my body.
I never developed any risks and had an amazing birth experience the solidified that my body is pretty rad. I even gave birth on my knees! As my baby was passed from between my legs, into my arms, I knew my life would never be the same. I not only became a mother but also a new version of the woman I had always been.
Once I settled into motherhood I felt compelled to share my story. I wanted other plus size women to know that a number on a scale doesn't automatically mean you'll have a high risk pregnancy. Yet, even if you do develop complications, that doesn't mean that your body is broken. Your body is growing life within it and that's incredible! I wanted to support all women and educate birth professionals on how to best care for women of size.
Now I'm doing just that! I'm a childbirth educator, blogger, and public speaker. I've developed a Facebook community of over 170,000 women supporting one another before, during, and after pregnancy (https://www.facebook.com/plussizemommymemoirs). My life is greatly enriched by this work and I can't imagine doing anything else.
You send a great message regarding loving your body and understanding that health is not measured by a number on a scale or clothes. What 3 tips do you find is most helpful for women to start embracing self-love at every size that they can start implementing today?
Learning to love your body is hard. I've been on this journey for over 4 years and I still have my struggles. As a society we are condition to measure our self-worth based upon our clothing size. It's ridiculous! I spend a lot of time encouraging women to take small steps to undo a life-time of self-hate. The first small step is as simple as looking in the mirror each morning and saying, "I'm beautiful!" You may not believe yourself at first, and that's okay, but you will over time.
My second tip, and one I've developed a presentation around, is to come out from behind the camera and start being in photos! We tend to be so busy capturing childhood that we forget to capture motherhood. The more we're in photos with our kids, the more we break down our perceived insecurities. It's time we start seeing ourselves the way our loved ones see us…as perfect! The added bonus is that our children will have a ton of photos to cherish for the rest of their lives. They don't care about the size of our jeans, just the size of our heart.
What have you found to be most helpful for women to stay motivated and focus on overall health for themselves and their baby when they are planning a pregnancy, are pregnant, and after their baby is born?
Body love! I think body love is everything and I've really shifted my focus there. I believe when you love your body, you want to take better care of it! When you love your body, you're also your own best advocate. Working with a good care provider can make all the difference between a positive or negative birth experience (regardless of how your baby is born).
I love that you tell women that they can fire their provider if they are not feeling supported because of their size. In this case what should women look for to find a size friendly provider?
As I often say, we shouldn't hope our care providers treat us with dignity, we should expect it! Everyone deserves to be treated with evidence based compassionate care and here are some tips on how to connect with a great care provider (this info isn't just for plus size ladies).
You absolutely have the right to fire your care provider at any time. If you don't feel like you have a good provider then start looking for a new one. A great place to start is by asking your friends if they like their care provider.
Then cyber stock your potential doctor just as you used to research a prospective date (or maybe still do). If you come across any red flags then remove that provider from your list. You might even want to spend a few minutes Googling your current provider and see what you find out. If you love them, I hope it's only good news. If you have some concerns, this might help you to decide to start a search.
Once you have a few names, call the front office and ask questions! These people are the gatekeepers and they know what's going on behind the scenes. For plus size women, I encourage you to ask about larger gowns and blood pressure cuffs. Do they have any BMI restrictions? Sadly some places do (especially birth centers). Even ask if you can get an interview with your prospective care provider. While this usually isn't possible, it never hurts to ask.
Once you've made an appointment and arrive at your care provider's office, make observations! For us curvy gals, is there a place to sit comfortably or do all the chairs have arms? When meeting with your care provider, did they answer all of your questions thoroughly or make you feel rushed? Was everything redirected to your weight or were your healthcare concerns actually being addressed? Be sure to ask anything that's important to you and it never hurts to bring a partner or friend with you for moral support.
Trust your gut! Our gut is our best indicator if we're working with a care provider who is the right fit for us or not.
As you've noticed I say "care provider" far more often than I say doctor. I think OB-GYNs are wonderful but if you're low-risk I highly encourage you to look into the midwifery model of care. Midwives practice women centered care and tend to be more size friendly. Midwives don't just do home birth. There are more and more hospital based midwifery practices popping up around the country. So consider working with a midwife during pregnancy and for your well woman visits.
My very last tip, for having a healthy pregnancy and an empowered birth, is to hire a doula! Doulas are there to support you and they are a wealth of knowledge. I can't imagine giving birth without a doula by my side.
I hope this information has been helpful and that you'll checkout my website for additional resources and helpful tips. http://plussizebirth.com/