Check this out! @DrRomie shares with us how the mind-body connection works and how it affects female and male fertility. Find out how this can help shape the health of future generations on Imprinted Legacy's podcast!
Click To Tweet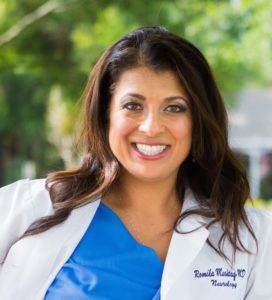 Introducing our guest Legacy Leader Dr. Romie:
Romila "Dr. Romie" Mushtaq, M.D., ABIHM, is a traditionally trained neurologist with additional board certification in integrative medicine. Dr. Romie helps individuals and audiences learn to heal from stress-based illnesses such as insomnia, anxiety, and career burnout. Her innovative program, Mindset Matters, is based in neuroscience, positive psychology, and mindfulness.Dr. Romie completed her medical training at the Medical University of South Carolina, University of Pittsburgh Medical Center and the University of Michigan where she won numerous teaching and research awards. She previously served as faculty at the Medical College of Wisconsin. After surviving career burnout and undergoing life-saving surgery, she traveled the world learning various yoga and mindfulness techniques. Dr. Romie is a media expert analyst and regular contributor in national and local media outlets. She shared her journey in a TED Talk is "The Powerful Secret of Your Breath." When not speaking around the country, she heals clients at the Center for Natural and Integrative Medicine in Orlando, Florida.
In this episode:
In this episode guest Legacy Leader Dr. Romie shares with us how the mind-body connection actually works and how it affects male and female fertility. She also explains the keys to meditation, how to start your day with an intention, and demonstrates how to do a quick and simple meditation and breathing rhythm you can do in the midst of chaos to regain mindfulness and presence.
Want to know a cool secret?
Dr. Romie was the very first person I interviewed for my podcast. I was so nervous and couldn't believe she said yes when I asked her. I was so nervous to speak with her but she was just as compassionate, caring, and welcoming as when I met her in person about a year prior to this recording. Since that very day, I have made it a practice to do the quick grounding meditation before I get online to start my interview with anyone. It really comes in handy to calm my nerves and allow me to be present with those I have the honor to speak with for this podcast. I will forever me thankful to having her as my very first interview because she set the bar and the stage for how I approach each interview and the intention that is set before I begin.
Dr. Romie answers the following questions:
For those tuning in who may not know you yet, please tell them about your passion and why you chose mindfulness and positive psychology to express this passion?
May you please explain how intimately connected our thoughts and feelings are to the rest of the body?
From a biological standpoint, why is this connection so critical to our survival?
May you also take us a few steps further and explain how our emotions and state of mind communicate all the way down to a molecular level and affect our DNA?
How does the message communicated to the DNA affect how the cells respond?
How does this internal communication affect the reproductive system of both men and women?
How does this internal communication affect the DNA within the reproductive cells that will be passed on and used to create a new human?
How can men and women take back positive control and use the mind-body connection to their advantage if they are experiencing negative thoughts that stem from emotions of stress, anxiety, depression, fear and/or uncertainty?
When I saw you speak at Infusionsoft you talked about deep breathing and meditation. May you explain for those watching or listening to this, the power of deep breathing and how it actually alters our mind-body connection in a positive way?
Why is meditation an important component to couple with deep breathing exercises?
Before I met you I had a complex perception about meditation and breathing and found it difficult to do. I really thought it took some sort of mastery, I am not sure why. So for those who may be new to deep breathing exercises and meditation and feel similar to how I did, may you please walk us through a quick example of how to go about it? I'll follow your instructions so the listeners and viewers aren't doing it alone.
Do you have a link to an article or video that I may share with those here with us today that can explain or walk them through this deep breathing exercise and a meditation that they can use?
Are there any other resources that you would like to share with our viewers and listeners today?
Resources mentioned:
Deepak Chopra's "RPM" to make meditation a habit
Dr. Romie's TED Talk: The powerful secret of your breath
Where to find Dr. Romie:
I created this because I want you to have it:
Get this week's Lifestyle Recipe!!
Mindfulness Through Daily Meditation
This week I wanted to give you a lifestyle guide in a fun and easy to use recipe format based on this week's episode. This recipe is for men and women who are planning and preparing to have a baby in the new future and are expecting. 
Monday, Oct. 3-Sunday, Oct. 9 (11:59 PST)
What to do next:
We are all interdependent on the issue of chronic disease and how it has become a social norm for each generation. It is up to all of us to change this. It is possible, and now you too are aware. When it comes to our society's health, we all win, or we all lose together. To contribute to the global effort to pass down health as a family legacy and making this change, please do the following
To contribute to the global effort to pass down health as a family legacy and making this change, please do the following three steps to help get the story of  Developmental Origins of Health and Disease (DOHaD) out there.
Rate and write a review for this episode
Share the podcast with your family and friends (in whatever way is easiest for you)
As always, email me with any questions and input on what you would like to hear more of on the podcast.
Alright, now that everything has been covered head over to iTunes, Stitcher, or listen directly from the website to all ten episodes and tune in again on Monday, October 10 for the newest episode with Bridget Osho.