Check this out! Dr. Kent Thornburg shares with us the big picture of how nutrition shapes the health of our future generations on Imprinted Legacy's podcast!
Click To Tweet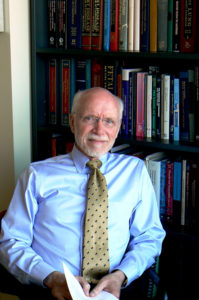 Kent L. Thornburg received his Ph.D. in developmental physiology from Oregon State University and studied cardiovascular physiology as a National Institutes of Health (NIH) postdoctoral fellow at Oregon Health & Science University (OHSU).  He now holds the M. Lowell Edwards Chair at OHSU as a professor of medicine. He is the director of the OHSU Bob and Charlee Moore Institute for Nutrition & Wellness and the director of the Center for Developmental Health in the OHSU the Knight Cardiovascular Institute. Dr. Thornburg is the principal investigator on NIH-funded studies including maternal-fetal signaling, thyroid hormone, early origins of aging and heart development and placental function. He participates in co-funded projects with scientists in England, New Zealand, France, Finland and Australia, and has authored more than 125 articles on pregnancy and fetal development.
Dr. Kent Thornburg answers the following questions:
For those tuning in who may not know of you yet, please tell them about your passion and why you chose a field in developmental programming to express this passion
I learned that when you first heard Dr. David Barker discuss his findings in developmental programming you initially didn't agree with him.

May you please explain why you initially disagreed with him and what turned your views around?

There was a twitter chat that Better the Future hosted in February of this year. In this chat you stated:"The nutrition mom receives before and during pregnancy sets heart disease risk"

May you explain how the nutrition the mom receives before pregnancy sets her future child's risk to chronic conditions?
Would the nutrition a father receives prior to conception have a similar impact on the DNA he is passing on to his children as well?
In the same twitter chat you also stated:"This is the third generation of Americans eating fast and processed foods, which has led to vulnerability for heart disease. Each generation has become more vulnerable to heart disease because of diet."

May you please explain how the diets of our grandparents influence our vulnerability to chronic conditions into adulthood?
What changes would you like to see come from the field of developmental programing?
What are the current challenges that you face to make the research implemented and actionable within our communities?
What do you want community leaders to do with the discoveries in this field?
What do you want planning and expecting parents to do with this information?
Where can people find more information about you and Better the Future so they can learn more and get involved.
Resources mentioned:
Oregon Health & Science University
What to do next
To help me continue to make this your "go-to podcast" for all things DOHaD, preventive health, keeping up with the most recent research in DOHaD and keeping up with the most up to date health tips from the health experts in this field I need your input. After all, this is your podcast, right?
After you listen to this episode I need you to do three things to make sure I create the kind of podcast you're addicted to:
Rate and write a review for this episode
Share the podcast with your family and friends (in whatever way is easiest for you)
As always, email me with any questions and input on what you would like to hear more of on the podcast.
Alright, now that everything has  been covered head over to iTunes, Stitcher, or listen directly from the website to all five episodes and tune in again on Monday Septemeber 5 for the newest episode with Dr. Jillian Sarno-Teta.